TSI EVM-7 IAQ Monitor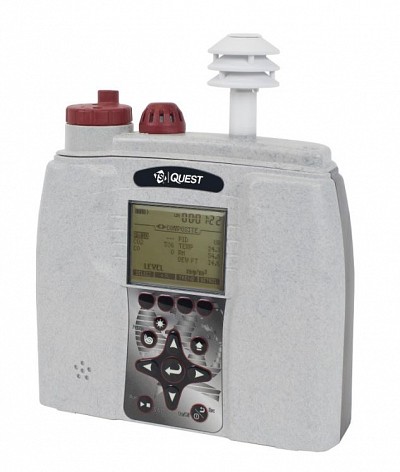 The TSI Quest EVM Environmental Monitor simultaneously measures particulates and gas concentration in real time. These
monitors measure select toxic gases, volatile organic compounds (VOCs), relative humidity, temperature, and air velocity.
Parameters:
Total volatile organic compounds (TVOCs): 0.01 to 2,000 ppb

Carbon Monoxide (CO) range: 0 to 1000 ppm

Carbon Dioxide (CO2) range: 0 to 5000 ppm

Temperature range: 0.1 to 60 deg C

Relative humidity range: 0.1 to 100% RH

Dust (particulate): PM 2.5, 4, 10, or TSP
Features:
Compact, easy to use.

All-in-one IAQ monitor (less equipment to carry at the job site).

User-selectable logging intervals and start/stop times.

Battery life = 8 hours.

DC power option included for continuous monitoring.
DOWNLOAD BROCHURE
---
QTrak Model 7575