Levelogger 5 LTC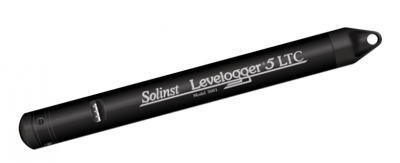 Solinst Model 3001 Levelogger 5 LTC
The Levelogger 5 LTC is a self-contained conductivity, water level, and temperature datalogger.
Applications:
Plume remediation monitoring and studies

Tracer tests

Agricultural and stormwater runoff monitoring

Leachate monitoring at landfills, mine tailings, waste disposal storage sites, and more

Saltwater intrusion and soil salination monitoring
The conductivity sensor is a 4-electrode platinum sensor, with autoranging capabilities. The minimal maintenance, sealed Levelelogger 5 LTC is simple to clean and calibrate, even in the field.
Features:
Rugged design

Easy to use software interface

4-electrode platinum conductivity sensor

Customizable sampling modes

Single or multi-point conductivity calibration

Memory capacity of up to 100,000 readings
The Levelogger 5 LTC instruments are available in several different pressure ranges:
| | |
| --- | --- |
| Model | Pressure Range |
| M5 | 5 m (16.4 ft.) |
| M10 | 10 m (32.8 ft.) |
| M20 | 20 m (65.6 ft.) |
| M30 | 30 m (98.4 ft.) |
| M100 | 100 m (328.1 ft.) |
| M200 | 200 m (656.2 ft.) |
---
Resources:
Download Brochure
---
Levelogger Jr
Diver Instruments