Bladder Pump System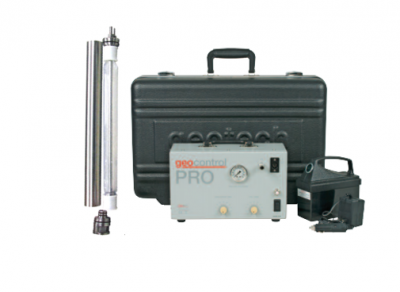 Where high integrity low-flow samples are required, and peristaltic pumping is not an option, the bladder pump systems offer clients an effective alternative. Using a submersible stainless-steel pump and combined controller/compressor at the surface of the well the bladder pump system uses controlled air pressure to drive water samples to the surface. The use of a disposable polyethylene bladder within the submersible pump ensures that air and water do not mix, therefore ensuring a high integrity sample.
Geotech's portable bladder pumps are designed with input from field technicians. Single turn release and quick change bladders allow for field efficiencies and easy decontamination. Custom hose barbs allow the pump to be secured without the need for tubing clamps.
MAXIM caries the Geotech submersible bladder pumps in two sizes:
For 2" well diameters: 1.66" diameter x 18" length bladder pump

For 1" well diameters: 0.85" diameter x 18" length bladder pump
The portable 12V Geocontrol functions as a combined controller/compressor which is used to supply controlled air pressure to drive the water sample to the surface of the well.
With the MAXIM rental of the Geotech bladder pump system, we supply our clients with a portable 12V deep cycle AGM battery and quick charger to ensure maximum field battery life.
Features:
Ideal for low-flow sampling of VOCs, PFOS/PFAS, BTEX, and solvents

Designed for quick field replacement of bladders & decontamination between wells

Geocontrol (combined controller/compressor) is easy to use/operate

Allows sampling from depths of 180 feet
---
Resources:
Download Brochure
---
Solinst Peristaltic
Grundfos Rediflo