Solinst Peristaltic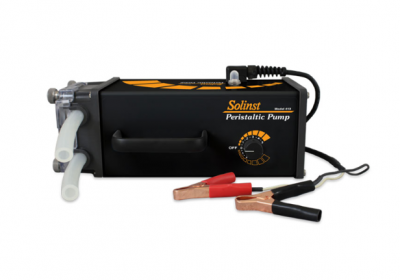 Solinst Model 410 Peristaltic Pump
The Solinst Model 410 Peristaltic Pump is ideally suited for groundwater, surface water and vapor sampling. Compact, lightweight and water resistant, it has excellent field durability. Robust metal case makes it easy to maintain and repair. One easy-access control enables reversible flow and various speeds, allowing high or low-flow sampling. Simply connect to a 12 Volt power source to operate.
The standard pump tubing is 5/8" silicon, for lower flow rates an optional conversion kit allows the user to use 3/8" silicon to connect to 1/4" low-flow tubing.
With the Maxim rental of the Model 410 series we supply our clients with a portable 12V deep cycle AGM battery and quick charger to ensure maximum field battery life.
Variable flow rate: 40 ml/min to 900 ml/min
Features:
Exceptional field rugged design & heavy-duty construction
Reversible flow feature for back-flushing
Redesigned clear pump head allows for quick cleaning and tubing replacement
Long lasting external battery (14 hours under low-flow)
---
Resources:
Download Brochure
---
Geopump Peristaltic
Bladder Pump System