Vac-U-Chamber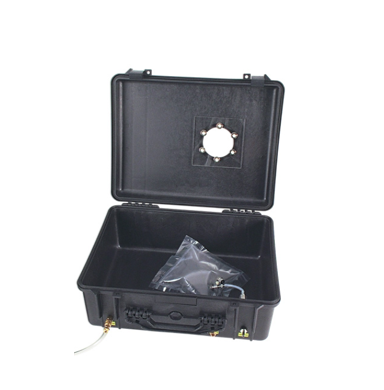 SKC Vac-U-Chamber (Lung Box)
The Vac-U-Chamber is a rigid air sample box that directly fills a sample bag using negative pressure provided by an air sample pump. The Vac-U-Chamber is available in four sizes and will not collapse under pressure from the vacuum. Use the Vac-U-Chamber for soil gas/vapour sampling, sub-slab vapour sampling, groundwater testing, stack sampling, ventilation studies, hazmat testing.
The Vac-U-Chamber is equipped with three 1/4-inch OD fitting ports for inflation sample bags (Tedlar Bags):
The Sample inlet port for connecting to the sample line or gas.
Purge port for purging the air prior to sampling or when preparing the bag for a standard.
Vacuum port for inflating the bag.
Features:
Uses negative pressure provided by most personal air sample pumps
Designed for Tedlar sample bags
Sample does not pass through the pump
Sample contacts only inert tubing and bag
---
Companion accessories for soil vapour/sub-slab vapour programs:
---
Resources:
Download Brochure